15. david the ecstasy of saint teresa and apollo & daphne

The group is illuminated by natural light which filters through a hidden window in the dome of the surrounding aedicule, and underscored by gilded stucco rays. Teresa is shown lying on a cloud indicating that this is intended to be a divine apparition we are witnessing. Other witnesses appear on the side walls; life-size high-relief donor portraits of male members of the Cornaro family, e.g. Cardinal Federico Cornaro and Doge Giovanni I Cornaro, are present and shown discussing the event in boxes as if at the theatre. Although the figures are executed in white marble, the aedicule, wall panels and theatre boxes are made from coloured marbles. Above, the vault of the Chapel is frescoed with an illusionistic cherub-filled sky with the descending light of the Holy Ghost allegorized as a dove.
The Ecstasy of Saint Teresa (alternatively Saint Teresa in Ecstasy or Transverberation of Saint Teresa; in Italian: L'Estasi di Santa Teresa or Santa Teresa in estasi) is the central sculptural group in white marble set in an elevated aedicule in the Cornaro Chapel, Santa Maria della Vittoria, Rome. It was designed and completed by Gian Lorenzo Bernini, the leading sculptor of his day, who also designed the setting of the Chapel in marble, stucco and paint. It is generally considered to be one of the sculptural masterpieces of the High Roman Baroque. It depicts Teresa of Ávila.
In the 1630s he engaged in an affair with a married woman named Costanza (wife of his workshop assistant, Matteo Bonucelli, also called Bonarelli) and sculpted a bust of her (now in the Bargello, Florence) during the height of their romance. She later had an affair with his younger brother, Luigi, who was Bernini's right-hand man in his studio. When Gian Lorenzo found out about Costanza and his brother, in a fit of mad fury, he chased Luigi through the streets of Rome and into the basilica of Santa Maria Maggiore, threatening his life. To punish his unfaithful mistress, Bernini had a servant go to the house of Costanza, where the servant slashed her face several times with a razor. The servant was later jailed, and Costanza was jailed for adultery; Bernini himself was exonerated by the pope, even though he had committed a crime in ordering the face-slashing. [51] Soon after, in May 1639, at age forty-one, Bernini wed a twenty-two-year-old Roman woman, Caterina Tezio, in an arranged marriage, under orders from Pope Urban. She bore him eleven children, including youngest son Domenico Bernini, who would later be his first biographer. [52] After his never-repeated fit of passion and bloody rage and his subsequent marriage, Bernini turned more sincerely to the practice of his faith, according to his early official biographers, whereas brother Luigi was to once again, in 1670, bring great grief and scandal to his family by his sodomitic rape of a young Bernini workshop assistant at the construction site of the 'Constantine' memorial in St. Peter's Basilica. [53]
Bernini remained physically and mentally vigorous and active in his profession until just two weeks before his death that came as a result of a stroke. The pontificate of his old friend, Clement IX, was too short (barely two years) to accomplish more than the dramatic refurbishment by Bernini of the Ponte Sant'Angelo, while the artist's elaborate plan, under Clement, for a new apse for the basilica of Santa Maria Maggiore came to an unpleasant end in the midst of public uproar over its cost and the destruction of ancient mosaics that it entailed. The last two popes of Bernini's life, Clement X and Innocent XI, were both not especially close or sympathetic to Bernini and not particularly interested in financing works of art and architecture, especially given the disastrous conditions of the papal treasury. The most important commission by Bernini under Clement X was the statue of the Blessed Ludovica Albertoni, another nun-mystic, a work reminiscent of Bernini's Ecstasy of Saint Teresa. In his last two years, Bernini also carved (supposedly for Queen Christina) the bust of the Savior (Basilica of San Sebastiano fuori le Mura, Rome) and supervised the restoration of the historic Palazzo della Cancelleria as per papal commission under Innocent XI.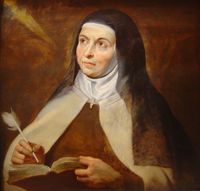 By the time she reached her forties, Theresa had settled down to her new spiritual life, when one day, while praying and singing the hymn "Veni Creator Spiritus," she experienced the first of the episodes that would accompany her for the rest of her life: a rapture.
Gian Lorenzo Bernini
The most concrete motivation behind these depictions is that each of these artists had a lot to gain from their sexualized representations. Bernini, who was already a millionaire in today's dollars, earned more than he ever had for his commission of the Saint. Wingrove still uses the fact that his short film was banned in the U.K. as a selling point. Wallace, who had already become somewhat of a celebrity by the time Infinite Jest was published, ended up writing a New York Times best-seller.
Of course, not all depictions of the Saint are so overtly sexualized. In a 1983 mini-series, the Spanish director Josefina Molina depicts the same event as Bernini, Wingrove, and Wallace with only a hint of sexual innuendo. Her cinematic version depicts the Saint as near age forty-four, which scholars have deduced was her age at the time of its occurrence, and the only sexualized aspects are a few suspect moans and groans overheard by a passing nun. Another film, Teresa, el cuerpo de Cristo (2007) by Spanish director Ray Loriga, takes a much more surreal approach that seems to be a combination of those by Bernini and Wingrove. In this film, the Saint is depicted as a beautiful young woman, but instead of a hovering angel, this interpretation of the same event shows her in a red dress, head leaning back with eyes closed, and impaled by several spears. [Fig. 6] During another scene, as a means to emphasize its sexuality, the film cuts between the Saint convulsing in ecstasy with images of her nestling a shirtless man. She then goes before a panel of priests and friars to confess the visions she had, which is something the Saint describes in her autobiography as having done several times during her life, using phrases like, "painlessly tearing my flesh, and going deep inside me," and "it is such severe pleasure."

As many before and after her, Costanza Bonarelli became an artist's mistress after posing as a model. | Photo by Sailko, via Wikicommons.
As the 6th of twelve siblings, Bernini must have been used to a large family. Later, he went on to have 11 children with his young wife, Caterina Tezio. Actually, Bernini was quite "old" (for the 17th century, that is) when he finally married in an arranged marriage; He was 41 and his wife was just 22.
References:
http://en.m.wikipedia.org/wiki/Gian_Lorenzo_Bernini
http://www.artble.com/artists/gian_lorenzo_bernini/sculpture/the_ecstasy_of_saint_theresa
http://artwriting.sva.edu/journal/post/sexualizing-saint-teresa-of-avila
http://www.walksofitaly.com/blog/art-culture/things-to-see-in-rome-bernini
http://www.visual-arts-cork.com/sculpture/ecstasy-of-saint-teresa.htm