bernini ecstasy of st teresa baroque


Essentially, Bernini designed the chapel as a theatre for his sculpture. The latter is set in a niche above and behind the altar, flanked by pairs of marble columns. It is theatrically illuminated by beams of natural light from a hidden window overhead. This natural light mingles with and reflects off a sheaf of vertical gilt bronze shafts behind the sculpture, sculpted to resemble the rays of the sun. High above, the ceiling of the Chapel is frescoed with trompe l'oeil images of a sky filled with cherubs.
To formalize and "authenticate" the scene as a genuine spiritual experience approved by the Catholic Church, Bernini added two groups of "witnesses" carved in life-size relief sculpture to either side of Tereasa. The first group, composed of four male members of the Cornaro family, is located to the left of the altar as if in a box at the theatre. A second group, consisting of male representatives of church and state are located to the right.
Beside me, on the left, appeared an angel in bodily form. . . . He was not tall but short, and very beautiful; and his face was so aflame that he appeared to be one of the highest rank of angels, who seem to be all on fire. . . . In his hands I saw a great golden spear, and at the iron tip there appeared to be a point of fire. This he plunged into my heart several times so that it penetrated to my entrails. When he pulled it out I felt that he took them with it, and left me utterly consumed by the great love of God. The pain wasso severe that it made me utter several moans. The sweetness caused by this intense pain is so extreme that one cannot possibly wish it to cease, nor is one's soul content with anything but God. This is not a physical but a spiritual pain, though the body has some share in it—even a considerable share.
This is her description of the event that Bernini depicts:

The entire ensemble was overseen and completed by a mature Bernini during the Pamphili papacy of Innocent X. When Innocent acceded to the papal throne, he shunned Bernini's artistic services; the sculptor had been the favourite artist of the previous and profligate Barberini pope. Without papal patronage, the services of Bernini's studio were therefore available to a patron such as the Venetian Cardinal Federico Cornaro (1579–1653).
The art historian Rudolf Wittkower wrote:

Gianlorenzo Bernini 1645-1652.
Santa Maria della Vittoria Cornaro Chapel, Rome.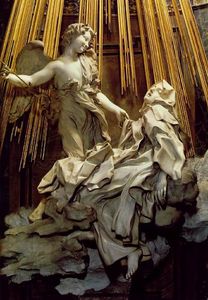 St. Theresa of Avila
Bernini's St. Theresa is often described as a gesamtkunstwerk (a German word meaning "total work of art") for the artist's incorporation of a variety of elements: sculpture, painting, and lighting effects all presented in a theatrical setting.
References:
http://courses.lumenlearning.com/zeliart102/chapter/berninis-ecstasy-of-st-teresa/
http://en.m.wikipedia.org/wiki/Ecstasy_of_Saint_Teresa
http://bettybaroque.wordpress.com/2011/01/31/bernini_ecstasy-of-st-teresa/
http://www.artble.com/artists/gian_lorenzo_bernini/sculpture/the_ecstasy_of_saint_theresa
http://en.m.wikipedia.org/wiki/Ecstasy_of_Saint_Teresa