bernini st.teresa
I saw in his hand a long spear of gold, and at the iron's point there seemed to be a little fire. He appeared to me to be thrusting it at times into my heart, and to pierce my very entrails; when he drew it out, he seemed to draw them out also, and to leave me all on fire with a great love of God. The pain was so great, that it made me moan; and yet so surpassing was the sweetness of this excessive pain, that I could not wish to be rid of it. The soul is satisfied now with nothing less than God. The pain is not bodily, but spiritual; though the body has its share in it. It is a caressing of love so sweet which now takes place between the soul and God, that I pray God of His goodness to make him experience it who may think that I am lying. [3]
The group is illuminated by natural light which filters through a hidden window in the dome of the surrounding aedicule, and underscored by gilded stucco rays. Teresa is shown lying on a cloud indicating that this is intended to be a divine apparition we are witnessing. Other witnesses appear on the side walls; life-size high-relief donor portraits of male members of the Cornaro family, e.g. Cardinal Federico Cornaro and Doge Giovanni I Cornaro, are present and shown discussing the event in boxes as if at the theatre. Although the figures are executed in white marble, the aedicule, wall panels and theatre boxes are made from coloured marbles. Above, the vault of the Chapel is frescoed with an illusionistic cherub-filled sky with the descending light of the Holy Ghost allegorized as a dove.


• Francesco Mochi (1580-1654)
First Baroque sculptor; on a par with Caravaggio and Carracci.
• Alessandro Algardi (1598-1654)
Noted for his High Baroque classicism, midway between Duquesnoy's restraint and Bernini's dramatic naturalism.

The Ecstasy of St. Teresa
Artist / Origin: Gian Lorenzo Bernini (Italian, 1598–1680)
Region: Europe
Date: 1647–52
Period: 1400 CE – 1800 CE
Material: Marble, stucco, and gilt bronze
Medium: Sculpture
Dimensions: H: 11 ft. 6 in. (3.5 m.)
Location: Cornaro Chapel, Santa Maria della Vittoria, Rome, Italy
Credit: Courtesy of SCALA/Art Resource, NY
Born in the Castilian town of Ávila in 1515, Teresa Sánchez de Cepeda y Ahumada entered a Carmelite convent around the age of twenty, but it was not until the 1550s that she began to experience divine visions like the one to which Gian Lorenzo Bernini gives tangible form here.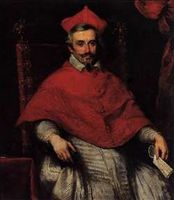 The Ecstasy of Saint Theresa
The Ecstasy of St. Theresa is considered by many as the apogee of Bernini's oeuvre and is notable for the following qualities;


Gian Lorenzo Bernini, Ecstasy of Saint Teresa, 1647-52 (Cornaro Chapel, Santa Maria della Vittoria, Rome). Speakers: Dr. Beth Harris and Dr. Steven Zucker
This is Saint Teresa's description of the event that Bernini depicts: "Beside me, on the left, appeared an angel in bodily form. He was not tall but short, and very beautiful; and his face was so aflame that he appeared to be one of the highest rank of angels, who seem to be all on fire. In his hands I saw a great golden spear, and at the iron tip there appeared to be a point of fire. This he plunged into my heart several times so that it penetrated to my entrails. When he pulled it out I felt that he took them with it, and left me utterly consumed by the great love of God. The pain was so severe that it made me utter several moans. The sweetness caused by this intense pain is so extreme that one cannot possibly wish it to cease, nor is one's soul content with anything but God. This is not a physical but a spiritual pain, though the body has some share in it—even a considerable share."
References:
http://www.visual-arts-cork.com/sculpture/ecstasy-of-saint-teresa.htm
http://www.learner.org/series/art-through-time-a-global-view/dreams-and-visions/the-ecstasy-of-st-teresa/
http://www.artble.com/artists/gian_lorenzo_bernini/sculpture/the_ecstasy_of_saint_theresa
http://m.youtube.com/watch?v=RKcJvjP9zgY
http://www.visual-arts-cork.com/sculpture/ecstasy-of-saint-teresa.htm