grande odalisque meaning

After describing The Source by Ingres I decided to write a new post about a work by Ingres to make its meaning clear and to describe it, even though the magic of this painting remains, and like me, you could continue to imagine the story of this woman.
Perfection in describing the details of fabrics, jewels and objects surrounding the woman compensates for flaws in anatomy, criticized at the 1911 Salon, but which make this painting very sensual.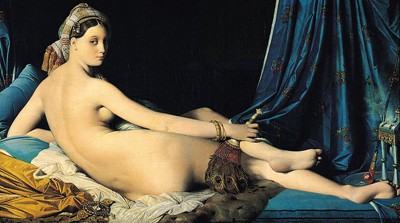 Explanation of Other French Paintings

La Grande Odalisque (1814) by J.A.D. Ingres.
Regarded as one of the greatest modern paintings of the 19th century.

Jean-Auguste-Dominique Ingres, La Grande Odalisque, 1814, oil on canvas, 36″ × 63″ (91 × 162 cm), (Musée du Louvre, Paris).
Ingres actually returned to Neo-Classicism after having rejected the lessons of his teacher, David, and after having laid the foundation for the emotive expressiveness of Romanticism, the new style of Gericault and the young Delacroix that Ingres would eventually defend against. Ingres' early Romantic tendencies can be seen most famously in his painting, La Grande Odalisque of 1814.

Caroline Murat (1782-1839), Napoleon's sister and the queen of Naples, commissioned this painting in 1813. It was probably a matching piece to another nude, La Dormeuse de Naples, destroyed in 1815. La Grande Odalisque was painted in Rome, where Ingres had arrived in 1806 to complete a fellowship at the Académie de France. The artist remained in Italy until 1824 because his art was unpopular in Paris. The works he exhibited at the Salon of 1806 (Caroline Rivière and Madame Rivière, Louvre), and the paintings he sent from Rome (The Valpinçon Bather, and Oedipus and the Sphinx, Louvre) were criticized. The exhibition of La Grande Odalisque at the Salon of 1819 confirmed that the critics didn't understand Ingres's style. They admonished him for disregarding anatomical reality, which set him apart from his teacher, Jacques Louis David (1748-1825).
La Grande Odalisque,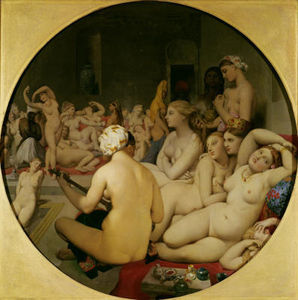 The Turkish Bath, 1859-1863:
Ingres continued with this theme up until the latter years of his life. One of his more widely recognized paintings is The Turkish Bath. He produced a quantity of voyeuristic nude studies meant as preparatory sketches for this painting. The Oriental vogue is once again evident. Like La Grande Odalisque he pays close attention to the female form, tweaking it where he deems it necessary, in order to achieve his idealized nude.
A favorite subject of Ingres was the female nude. He loved to imaginatively enhance the female form as he considered it ideal. Often this meant strong anatomical distortions. La Grande Odalisque, one of his most well known nudes, is a fine display of such achievements. His use of color, lighting and the tone he evokes is unique, combined on the canvas in a way only Ingres could make successful.
References:
http://www.visual-arts-cork.com/paintings-analysis/grande-odalisque.htm
http://courses.lumenlearning.com/suny-arthistory2/chapter/grand-odalisque/
http://www.louvre.fr/en/oeuvre-notices/une-odalisque
http://www.artble.com/artists/jean_auguste_dominique_ingres/paintings/la_grande_odalisque
http://en.wikipedia.org/wiki/Castaways_and_Cutouts