judith and holofernes

Judith Beheading Holofernes is a painting of the biblical episode by Caravaggio, painted in c. 1598–1599 or 1602 . [1] The widow Judith first charms the Syrian general Holofernes, then decapitates him in his tent. The painting was rediscovered in 1950 and is part of the collection of the Galleria Nazionale d'Arte Antica in Rome. The recent exhibition 'Dentro Caravaggio' Palazzo Reale, Milan (Sept 2017-Jan 2018), suggests a date of 1602 on account of the use of light underlying sketches not seen in Caravaggio's early work but characteristic of his later works. The exhibition catalogue (Skira, 2018, p88) also cites biographer artist Giovanni Baglione's account that the work was commissioned by Genoa banker Ottavio Costa.
Caravaggio's approach was, typically, to choose the moment of greatest dramatic impact: the moment of decapitation itself. The figures are set out in a shallow stage, theatrically lit from the side, isolated against the inky black background. Judith's maid Abra stands beside her mistress to the right as Judith extends her arm to hold a blade against Holofernes's neck; lying on his stomach, neck contorted as he turns his head towards his assassin, he is vulnerable. X-rays have revealed that Caravaggio adjusted the placement of Holofernes' head as he proceeded, separating it slightly from the torso and moving it minutely to the right. The faces of the three characters demonstrate the artist's mastery of emotion, Judith's countenance in particular showing a mix of determination and repulsion. Artemisia Gentileschi and others were deeply influenced by this work; while they even surpassed Caravaggio's physical realism, it has been argued that none matched his capture of Judith's psychological ambivalence. [3]

The Book of Judith was accepted by Jerome as canonical and accepted in the Vulgate and was referred to by Clement of Rome in the late first century (1 Clement 55), and thus images of Judith were as acceptable as those of other scriptural women. In early Christianity, however, images of Judith were far from sexual or violent: she was usually depicted as "a type of the praying Virgin or the church or as a figure who tramples Satan and harrows Hell," that is, in a way that betrayed no sexual ambivalence: "the figure of Judith herself remained unmoved and unreal, separated from real sexual images and thus protected." [3]
While many of the above paintings resulted from private patronage, important paintings and cycles were made also by church commission and were made to promote a new allegorical reading of the story—that Judith defeats Protestant heresy. This is the period of the Counter-Reformation, and many images (including a fresco cycle in the Lateran Palace commissioned by Pope Sixtus V and designed by Giovanni Guerra and Cesare Nebbia) "proclaim her rhetorical appropriation by the Catholic or Counter-Reformation Church against the 'heresies' of Protestantism. Judith saved her people by vanquishing an adversary she described as not just one heathen but 'all unbelievers' (Jdt 13:27); she thus stood as an ideal agent of anti-heretical propaganda." [10]

Klimt's Judith and the Head of Holofernes (1901) shows Judith hypersexualized, but not at all 'objectified.' She stands head-on to the painting's frame, seemingly entirely in control of how much of her figure is and isn't visible. She is not being depicted — she's revealing herself to you on her own terms. Of course, this 'strong woman' ideal is potentially problematic in its own ways. But Klimt's picture has this overarching sense: the kaleidoscopic redefinition of art and human beings, socially and sexually, as the world crested into the Modern. This heavily influenced Franz Stuck's 1928 version.
Equally, from this early depiction onwards, Judith's strength and physicality are given center stage. Even though miniature and rudimentary, the manuscript image shows her foot firmly planted, the grip of her left hand powerful on her victim's head, and the right arm emphatically aloft, warrior-like. Flash forward a couple of hundred years, and Caravaggio retains this muscular version of Judith. The angle of the figure in Caravaggio's Judith Beheading Holofernes (1598) — leaning away from her act as though to disown it, a determined kind of disgust on her face — means that the thrust of her sword, the dragging motion of her left hand on the man's hair, must all be focused in her forearms. The painting is a fulcrum around these muscles, duly exposed by Caravaggio and picked out in the brightest tones of the canvas. A viewer, paying attention to this painting, will feel the strain in their own anterior flexors.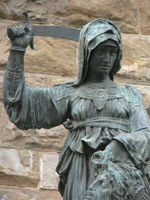 Method:
It is believed that Judith and Holofernes was originally gilded (coated with gold); thus, its original shine, combined with the statue's emotional power, was probably stunning.
Another inscription is said to have read; "The salvation of the state. Piero de Medici son of Cosimo dedicated this statue of a woman both to liberty and to fortitude, whereby the citizens with unvanquished and constant heart might return to the republic. "

Giorgio Vasari, Judith and Holofernes, ca. 1554. Image via Wikimedia Commons.
Jans Sanders van Hemessen, Judith with the Head of Holophernes, ca. 1540. Image via Wikimedia Commons.
References:
http://en.m.wikipedia.org/wiki/Judith_beheading_Holofernes
http://medium.com/mutualart/head-of-the-curve-judith-and-holofernes-through-history-33d7b5da02d8
http://www.artble.com/artists/donatello/sculpture/judith_and_holofernes
http://www.artsy.net/article/artsy-editorial-judith-beheading-holofernes-art-historys-favorite-icon-female-rage
http://en.m.wikipedia.org/wiki/Judith_and_the_Head_of_Holofernes