la grande odalisque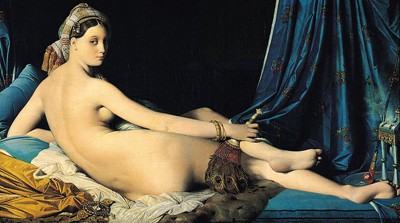 La Grande Odalisque (1814) by J.A.D. Ingres.
Regarded as one of the greatest modern paintings of the 19th century.
• Death of Marat (1793) by Jacques-Louis David.

However though, I aim to highlight, but simultaneously to complicate, this understanding of La Grande Odalisque as being a symbol of patriarchal art. Where does this image come from? In what kind of discourse and narrativity is the work produced and how has it been received in the early 19 th century? An in-depth analysis of the work will place Ingres' painting in its context. I will analyze La Grande Odalisque on two levels that the painting can be contested on through feminist theory, that are inevitably intertwined: firstly, as an image that reduces women to their bodies, and secondly as one of the first images of what literature scholar Edward Said influentially has called Orientalism. One of my starting points for doing so is the fact – that immediately goes against the mainstream understanding of the work – that the painting has been commissioned by a woman, Caroline Bonaparte Murat, sister of Napoleon Bonaparte and Queen of Naples. An analysis of the narrativity and the discourse in which the painting was produced will focus on what it means that a woman has commissioned such a work. The existing research conducted on La Grande Odalisque barely highlights the commission story behind the work, let alone the Orientalist implications of the work. Things are more complicated than they appear to be. I argue how it is important to understand the contradicting situations that are at play inherent to Ingres' painting in order to avoid totalizing, universalizing and ahistorical explanations on different (yet intersecting) patterns of discrimination such as gender, ethnicity and class. The recognition that gender, race and subjectivity are complex, plural and contingent, is substantial. Without it, it is difficult to find strategies with which to contest the naturalization of past power relations that merely analyze La Grande Odalisque as a painting produced from the white male gaze, while women's positionings in these narratives have been very complex and ambiguous.[3]
[4] Davies et al., Janson's History of Art, 837.

Another interpretation of this painting suggests that since the duty of some concubines was merely to satisfy the carnal pleasures of the sultan, this elongation of her pelvic area may have been a symbolic distortion by Ingres. While this may represent sensuous feminine beauty, her gaze, on the other hand, has been said to "[reflect] a complex psychological make-up" or "[betray] no feeling". In addition, the distance between her gaze and her pelvic region may be a physical representation of the depth of thought and complex emotions of a woman's thoughts and feelings. [6]
This eclectic mix of styles, combining classical form with Romantic themes, prompted harsh criticism when it was first shown in 1814. Critics viewed Ingres as a rebel against the contemporary style of form and content. When the painting was first shown in the Salon of 1819, one critic remarked that the work had "neither bones nor muscle, neither blood, nor life, nor relief, indeed nothing that constitutes imitation". [4] This echoed the general view that Ingres had disregarded anatomical realism. [5] Ingres instead favored long lines to convey curvature and sensuality, as well as abundant, even light to tone down the volume. [5] Ingres continued to be criticized for his work until the mid-1820s. [3]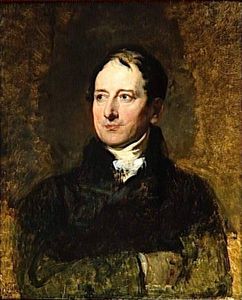 David left the work unfinished after finding out Juliette Récamier also commissioned François Gérard to paint a portrait of the same model before him.
Ingres desired to bring the exoticism of the Orient to his canvas in the nude commissioned by the queen of Naples.

This woman lying on a divan is offering herself because she is nude and turns her face towards us. The painting's title, which means "harem woman," and the accessories around her conjure up the sensuous Orient. But the woman is also discreet because she shows only her back and part of one breast. The nude was a major theme in Western art, but since the Renaissance figures portrayed in that way had been drawn from mythology; here Ingres transposed the theme to a distant land. The subject of the odalisque fascinated Boucher in the eighteenth century and was later chosen as a theme by Théodore Chassériau (1819-1856), one of Ingres's pupils. Throughout his career, many of Ingres's works feature Orientalist themes, such as The Turkish Bath (Louvre), which he painted towards the end of his life. The female nude, historical scenes, and the portrait were Ingres's favorite genres.
© 2005 Musée du Louvre / Angèle Dequier
References:
http://moed.online/rethinking-agency-la-grande-odalisque/
http://en.wikipedia.org/wiki/Grande_Odalisque
http://www.artble.com/artists/jean_auguste_dominique_ingres/paintings/la_grande_odalisque
http://www.louvre.fr/en/oeuvre-notices/une-odalisque
http://www.visual-arts-cork.com/paintings-analysis/grande-odalisque.htm