persephone rape
The search for Persephone continues, as does the destruction of the earth. Finally, with the help of either Triptolemus or Hecate, she learns what has happened to Persephone. She then questions Helios, and with the information she needs, confronts Zeus.
Usually in this story, Hades merely falls in love with Persephone. However, Ovid, going for drama, adds a marvelous little detail. According to that story, when some monster fell to earth, an earthquake occurred. Hades, always very careful of his domain, raced about to find what had gone wrong so that his gloomy kingdom would not be exposed too long to the upper world. Aphrodite, watching, came up with an idea. You see, Hades had long been impervious to her domain, which rather upset her, so she was quite determined to make him fall passionately in love with someone. Meanwhile, she had another problem. Demeter's daughter, Persephone, had plans to become a maiden Goddess, and three were already far too many for Aphrodite. So, she commanded Eros to shoot one of his arrows into Hades to make him besotted with Persephone.

Relief of the Rape of Persephone
This work is a white marble sculpture that measures 43 to 46 centimeters with a thickness of four and half centimeters.
Discovered at Martre-Tolosane (Haute-Garonne) during the excavation of the Roman villa of Chiragan (1897-1899), this relief is a picture that captures the well-known Greco-Roman myth of the kidnapping of Persephone by Hades.
Emerging from the earth, the god of the underworld and underground forces, Hades, kidnaps his niece, Persephone with whom he is in love. The winged cherubs symbolize Hades's feelings and his victory in this ordeal.
"Now when all-seeing Zeus the loud-thunderer heard this, he sent Argeiphontes [Hermes] whose wand is of gold to Erebos, so that having won over Aides with soft words, he might lead forth chaste Persephoneia to the light from the misty gloom to join the gods, and that her mother might see her with her eyes and cease from her anger. And Hermes obeyed, and leaving the house of Olympos, straightway sprang down with speed to the hidden places of the earth. And he found the lord Aides in his house seated upon a couch, and his shy mate with him, much reluctant, because she yearned for her mother. But she was afar off, brooding on her fell design becuase of the deeds of the blessed gods. And strong Argeiphontes [Hermes] drew near and said : 'Dark-haired Aides, ruler over the departed, father Zeus bids me bring noble Persephone forth from Erebos unot the gods, that her mother may see her with her eyes and cease from her dread anger with the immortals; for now she plans an awful deed, to destroy the weakly tribes of earth-born men by keeping seed hidden beneath the earth, and so she makes an end of the honours of the undying gods. For she keeps fearful anger and does not consort with the gods, but sits aloof in her fragrant temple, dwelling in the rocky hold of Eleusis.'
So he said. And Aidoneus, ruler over the dead, smiled grimly and obeyed the behest of Zeus the king. For he straightway urged wise Persephone, saying : 'Go now, Persephoneia, to your dark-robed mother, go, and feel kindly in your heart towards me : be not so exceedingly cast down; for I shall be no unfitting husband for you among the deathless dods, that am own brother to father Zeus. And while you are here, you shall rule all that lives and moves and shall have the greatest rights among the deathless gods : those who defraud you and do not appease your power with offerings, reverently performing rites and paying fit gifts, shall be punished for evermore.'
When he said this, wise Persephoneia was filled with joy and hastily sprang up for gladness. But he on his part secretly gave her sweet pomegranate seed to eat, taking care for himself that she might not remain continually with grave, dark-robed Demeter. Then Aidoneus Polysemantor (Ruler of Many) openly got ready his deathless horses beneath the golden chariot. And she mounted on the chariot, and strong Argeiphontes [Hermes] took reins and whip in his dear hands and drove forth from the hall, the horses speeding readily. Swiftly they traversed their long course, and neither the sea nor river-waters nor grassy glens nor mountain-peaks checked the career of the immortal horses, but they cleft the deep air above them as they went. And Hermes brought them to the place where rich-crowned Demeter was staying and checked them before her fragrant temple.
And when Demeter saw them, she rushed forth as does a Mainas (Maenad) down some thick-wooded mountain, while Persephone on the other side, when she saw her mother's sweet eyes, left the chariot and horses, and leaped down to run to her, and falling upon her neck, embraced her. But while Demeter was still holding her dear child in her arms, her heart suddenly misgave her for some snare, so that she feared greatly and ceased fondling her daughter and asked of her at once : 'My child, tell me, surely you have not tasted any food while you were below? Speak out and hide nothing, but let us both know. For if you have not, you shall come back from loathly Aidao and live with me and your father [Zeus], the dark-clouded Son of Kronos and be honoured by all the deathless gods; but if you have tasted food, you must fo back again beneath the secret places of the earth, there to dwell a third part of the seasons every year: yet for the tow parts you shall be with me and the other deathless gods. But when the earth shall bloom with the fragrant flowers of spring in every kind, then from the realm of darkness and gloom thou shalt come up once more to be a wonder for gods and mortal men. And now tell me how he rapt you away to therealm of darkness and gloom, and by what trick did strong Polydegmon (Host of Many) [Haides] beguile you?'
Then beautiful Persephone answered her thus : 'Mother, I will tell you all without error. When luck-bringing Hermes came, swift messenger from my father the Son of Kronos and the other Sons of Ouranos, bidding me come back from Erebos that you might see me with your eyes and so cease from your anger and fearful wrath against the gods, I sprang up at once for joy; but he secretly put in my mouth sweet food, a pomegranate seed, and forced me to taste against my will. Also I will tell how he rapt me away by the deep plan of my father [Zeus] the Son of Kronos and carried me off beneath the depths of the earth, and will relate the whole matter as you ask. All we were playing in a lovely meadow, Leukippe and Phaino and Elektra and Ianthe, Melite also and Iakhe with Rhodea and Kallirhoe and Melobosis and Tykhe and Okyrhoe, fair as a flower, Khryseis, Ianeira, Akaste and Admete and Rhodope and Plouto and charming Kalypso; Styx too was there and Ourania and lovely Galaxaure with Pallas who rouses battles and Artemis delighting in arrows: we were playing and gathering sweet flowers in our hands, soft crocuses mingled with irises and hyacinths, and rose-blooms and lilies, marvellous to see, and the narcissus which the wide earth caused to grow yellow as a crocus. That I plucked in my joy; but the earth parted beneath, and there the strong lord, Polydegmon (Host of Many) [Haides] sprang forth and in his golden chariot he bore me away, all unwilling, beneath the earth : then I cried with a shrill cry. All this is true, sore though it grieves me to tell this tale.'
So did they then, with hearts at one, greatly cheer each the other's soul and spirit with many an embrace: their hearts had relief from their griefs while each took and gave back joyousness. Then bright-coiffed Hekate came near to them, and often did she embrace the daughter of holy Demeter: and from that time the lady Hekate was minister and companion to Persephone.
Diodorus Siculus, Library of History 5. 2. 3 – 5. 5. 1 (trans. Oldfather) (Greek historian C1st B.C.) :
"The Sikeliotai (Sicilians) who dwell in the island [Sicily] have received the tradition from their ancestors, the report having ever been handed down successively from earliest time by one generation to the next, that the island is sacred to Demeter and Kore (Core) [Persephone]; although there are certain poets who recount the myth that at the marriage of Plouton (Pluto) [Haides] and Persephone Zeus gave this island as a wedding present to the bride . . .
The fact that the Rape of Kore [Persephone] took place in Sikelia (Sicily) is, men say, proof most evident that the goddesses made this island their favourite retreat because it was cherished by them before all others. And the Rape of Kore, the myth relates, took place in the meadows of the territory of Enna. The spot lies near the city, a place of striking beauty for its violets and every other kind of flower and worthy of the goddess. And the story is told that, because of the sweet odour of the flowers growing there, trained hunting dogs are unable to hold the trail, because their natural sense of smell is balked. And the meadow we have mentioned is level in the centre and well watered throughout, but on its periphery it rises high and falls off with precipitous cliffs on every side. And it is conceived of as lying in the very centre of the island, which is the reason why certain writers call it the navel of Sikelia. Near to it also are sacred groves, surrounded by marshy flats, and a huge grotto which contains a chasm which leads down into the earth and opens to the north, and through it, the myth relates, Plouton, coming out with his chariot, effected the Rape of Kore. And the violets, we are told, and the rest of the flowers which supply the sweet odour continue to bloom, to one's amazement, throughout the entire year, and so the whole aspect of the place is one of flowers and delight.
And both Athene and Artemis, the myth goes on to say, who had made the same choice of maidenhood as had Kore and were reared together with her, joined with her in gathering the flowers, and all of them together wove the robe for their father Zeus. And because of the time they had spent together and their intimacy they all loved this island above any other, and each one of them received for her portion a territory, Athene receiving hers in the region of Himera . . . Artemis received from the gods the island of Syrakouse (Syracuse) . . . Like the two goddesses whom we have mentioned Kore, we are told, received as her portion the meadows round about Enna; but a great fountain was made sacred to her in the territory of Syrakousa and given the name Kyane or 'Azure Font'. For the myth relates that it was near Syrakousa that Plouton effected the Rape of Kore and took her away in his chariot, and that after cleaving the earth asunder he himself descended into Haides, taking along with him the bride whom he had seized, and that he caused the fountain named Kyane (Cyane) to gush forth, near which the Syrakousans each year hold a notable festive gathering; and private individuals offer the lesser victims, but when the ceremony is on behalf of the community, bulls are plunged in the pool, this manner of sacrifice having been commanded by Herakles on the occasion when he made the circuit of all Sikelia, while driving off the cattle of Geryones.
After the Rape of Kore, the myth goes on to recount, Demeter, being unable to find her daughter, kindled torches in the craters of Mount Aitna (Etna) and visited many parts of the inhabited world . . . The inhabitants of Sikelia (Sicily), since by reason of the intimate relationship with Demeter and Kore with them they were the first to share in the corn after its discovery, instituted to each on of the goddesses sacrifices and festive gatherings . . .
That the Rape of Kore took place in the manner we have described is attested by many ancient historians and poets. Karkinos (Carcinus) the tragic poet, for instance, who often visited Syrakousa and witnessed the zeal which the inhabitants displayed in the sacrifices and festive gatherings for both Demeter and Kore, has the following verses in his writings : 'Demeter's daughter, her whom none may name, by secret schemings Plouton [Haides], men say, stole, and then he dropped into earth's depths, whose light is darkness. Longing for the vanished girl her mother searched and visited all lands in turn. And Sikelia's land by Aitna's crags was filled with streams of fire which no man could approach, and groaned throughout its length; in grief over the maiden now the folk, beloved of Zeus, was perishing without the corn. Hence honour they these goddesses even now.'"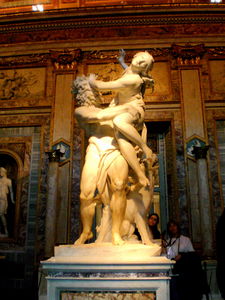 Cardinal Scipione Borghese
The Commission:
Cardinal Scipione Borghese commissioned The Rape of Persephone from the 23-year-old Bernini in 1621, giving it to Cardinal Ludovisi in 1622. In 1908, the Italian state purchased the work and relocated it to the Galleria Borghese.
Of the four deities of Empedocles' elements, it is the name of Persephone alone that is taboo—Nestis is a euphemistic cult title [n 3] —for she was also the terrible Queen of the Dead, whose name was not safe to speak aloud, who was euphemistically named simply as Kore or "the Maiden", a vestige of her archaic role as the deity ruling the underworld. Nestis means "the Fasting One" in ancient Greek. [ citation needed ]
In the hymn, Persephone returns and she is reunited with her mother near Eleusis. Demeter as she has been promised established her mysteries (orgies) when the Eleusinians built for her a temple near the spring of Callichorus. These were awful mysteries which were not allowed to be uttered. The uninitiated would spend a miserable existence in the gloomy space of Hades after death. [n 4]
References:
http://saintraymond.toulouse.fr/The-Rape-of-Persephone_a214.html
http://www.theoi.com/Khthonios/HaidesPersephone1.html
http://www.artble.com/artists/gian_lorenzo_bernini/sculpture/the_rape_of_persephone
http://en.m.wikipedia.org/wiki/Persephone
http://saintraymond.toulouse.fr/The-Rape-of-Persephone_a214.html