starry night meaning of painting

The sky, the nature, the starry night satisfied his desire for infinity.
In The Starry Night Van Gogh represents the most visionary night in history of art.
Before this painting the night had never been so intense! It's one of the most famous paintings by Van Gogh, in which darkness is illuminated by violent flashes and by cosmic energy which seems that it can't find peace.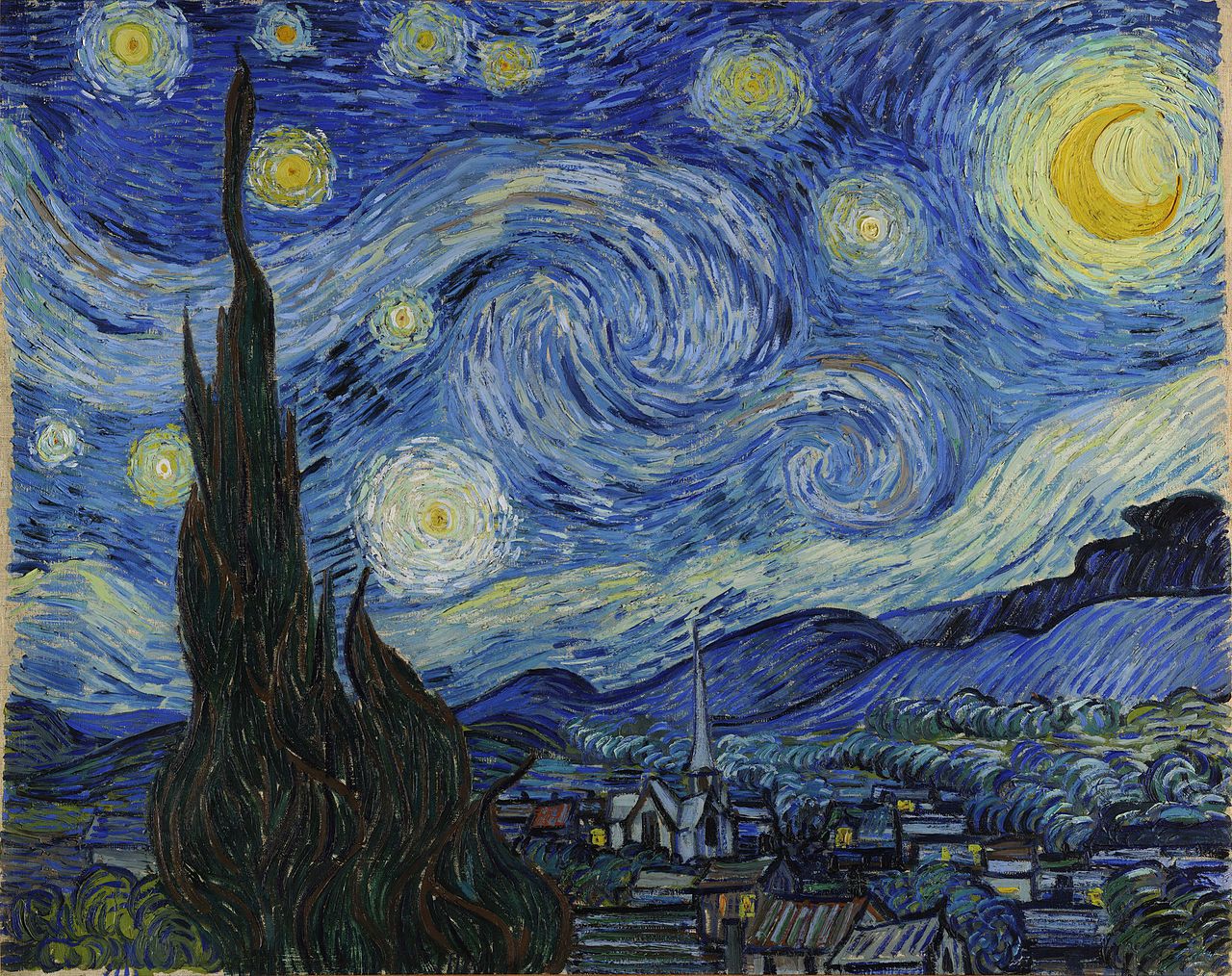 Starry Night is one of the most recognized pieces of art in the world. It is absolutely everywhere, too. It can be seen on coffee, mugs, t-shirts, towels, magnets, etc. Honestly, it sometimes feels as if the painting's fame has exceeded that of its creator. It is a magnificent piece of art. That Starry Night resonates with so many people is a testament to how its beauty is timeless and universal.
Vincent van Gogh painted Starry Night in 1889 during his stay at the asylum of Saint-Paul-de-Mausole near Saint-Rémy-de-Provence. Van Gogh lived well in the hospital; he was allowed more freedoms than any of the other patients. If attended, he could leave the hospital grounds; he was allowed to paint, read, and withdraw into his own room. He was even given a studio. While he suffered from the occasional relapse into paranoia and fits – officially he had been diagnosed with epileptic fits – it seemed his mental health was recovering.
Unfortunately, he relapsed. He began to suffer hallucination and have thoughts of suicide as he plunged into depression. Accordingly, there was a tonal shift in his work. He returned to incorporating the darker colors from the beginning of his career and Starry Night is a wonderful example of that shift. Blue dominates the painting, blending hills into the sky. The little village lays at the base in the painting in browns, greys, and blues. Even though each building is clearly outlined in black, the yellow and white of the stars and the moon stand out against the sky, drawing the eyes to the sky. They are the big attention grabber of the painting.

1889. Oil on canvas, 29 x 36 1/4″ (73.7 x 92.1 cm)
Largely self-taught, van Gogh produced more than 2,000 oil paintings, watercolors, drawings, and sketches, which became in demand only after his death. He also wrote scores of letters, especially to his brother Theo, in which he worked out his thoughts about art. "Always continue walking a lot and loving nature, for that's the real way to learn to understand art better and better," he wrote in 1874. "Painters understand nature and love it, and teach us to see." 1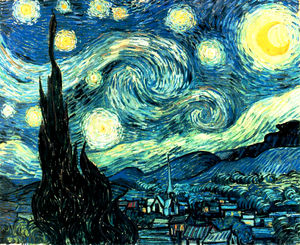 The night sky depicted by van Gogh in the Starry Night painting is brimming with whirling clouds, shining stars, and a bright crescent moon. The setting is one that viewers can relate to and van Gogh´s swirling sky directs the viewer´s eye around the painting, with spacing between the stars and the curving contours creating a dot-to-dot effect. These internal elements ensure fluidity and such contours were important for the artist even though they were becoming less significant for other Impressionists. Thus Starry Night´s composition was distinct from the Impressionist technique of the 19th century.
In a letter to his brother, Theo, van Gogh comments: "I should not be surprised if you liked the Starry Night and the Ploughed Fields, there is a greater quiet about them than in the other canvases. " Later in the letter he makes reference to Leo Tolstoys book My Religion and its lack of belief in resurrection. Such fleeting mentions of religion echoed van Goghs feelings towards the subject at this time; he could neither forget it nor totally accept it. Despite this, his use of the word 'quiet' and reference to Tolstoys book indicates that the night sky made him feel calm and brought to mind eternity.
I don't know anything with certainty, but seeing the stars makes me dream."
Starry Night has risen to the peak of artistic achievements. Although Van Gogh sold only one painting in his whole life, "Starry Night" is an icon of modern art, the Mona Lisa for our time. As Leonardo da Vinci evoked a Renaissance ideal of serenity and self-control, Van Gogh defined how we see our own age – wracked with solitude and uncertainty. Since 1941 Starry Night has been in the permanent collection of the Museum of Modern Art in New York City.
References:
http://www.vangoghgallery.com/painting/starry-night.html
http://www.moma.org/learn/moma_learning/vincent-van-gogh-the-starry-night-1889/
http://www.artble.com/artists/vincent_van_gogh/paintings/starry_night/more_information/analysis
http://www.vincentvangogh.org/starry-night.jsp
http://www.theartpostblog.com/en/the-starry-night-by-van-gogh-what-it-represents/