the ecstasy of st.theresa by bernini

The two central sculptural figures of the swooning nun and the angel with the spear derive from an episode described by Teresa of Avila, a mystical cloistered Discalced Carmelite reformer and nun, in her autobiography, The Life of Teresa of Jesus (1515–1582). Her experience of religious ecstasy in her encounter with the angel is described as follows:
Cornaro had chosen the hitherto unremarkable church of the Discalced Carmelites for his burial chapel. [a] The selected site for the chapel was the left transept that had previously held an image of 'St. Paul in Ecstasy', which was replaced by Bernini's dramatization of a religious experience undergone and related by the first Discalced Carmelite saint, who had been canonised not long before, in 1622. [1] It was completed in 1652 for the then princely sum of 12,000 scudi. [b]


– St John the Baptist (1615) Sant'Andrea della Valle, Rome
– Pluto and Proserpina (1621-2) Galleria Borghese, Rome
– Aeneas and Anchises (1618-19) Galleria Borghese
– Apollo and Daphne (1622-5) Galleria Borghese
– David (1623-4) Galleria Borghese
– S. Bibiana at her Martyrdom (1623-4) Church of S. Bibiana, Rome
– The Baldacchino (1624-33) St Peter's, Rome
– St Longinus (1631-38) St Peter's
– Monument to Urban VIII (1627-47) St Peter's
– Habakkuk and the Angel (1655-61) Santa Maria del Popolo, Rome
Note: In creating his Ecstasy of Saint Teresa it is almost certain that Bernini made use of styles initiated by certain Mannerist artists. For example, we can see the basis for Bernini's masterpiece in the simple piety, floating drapery and heavenward gaze of the Beata Michelina (1606, Pinacoteca Vaticana, Rome), a painting by the influential Mannerist religious painter Federico Barocci (1526-1612).

A complete understanding of the aesthetic impact and spiritual significance of the Ecstasy can only be gained in the context of the larger space of the chapel. The work is, in fact, not an independent piece, but the crucial center of a more complex composition that brings together not only sculpture, but also painting and architecture—all designed by Bernini. The dark, patterned marble columns and convex niche in which the Ecstasyis framed, for example, enhance the brightness and dynamism of the scene, while giving the sense that the wall has opened up to reveal St. Teresa's vision. We are, in a way, looking at a vision of a vision, one that Bernini has created for the faithful who worship at the altar and for the Cornaro family in particular. On each wall perpendicular to the altar wall, an illusionistic window contains sculptural likenesses of family members, some of whom lean over the parapet in the direction of Bernini's work, rapt witnesses to the miracle.
Hibbard, Howard. Bernini. London: Penguin, 1991.

When we walk toward the chapel (figure 2) we see that on either side of us, on the side walls, there are what look like theater boxes. In these boxes, seated figures in appear to be talking and gesturing to each other. Perhaps they are kneeling in prayer as they watch and discuss the scene of the Ecstasy of Saint Teresa.
When we look at the Ecstasy of Saint Teresa by Bernini we have to consider the entire space of the chapel. The chapel is called the Cornaro Chapel, after the Cornaro family who controlled it and commissioned Bernini to sculpt Saint Teresa.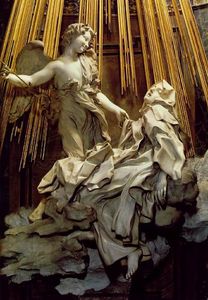 Upon entering the convent aged 19, Theresa became seriously ill (she has now become a patron saint for the infirm), possibly depressed and subjecting her body to self-mutilation.
The Ecstasy of St. Theresa is not just a sculpture, but a total environment: Bernini designed the entire chapel, creating a veritable stage set complete with sculpted audience members.
References:
http://www.visual-arts-cork.com/sculpture/ecstasy-of-saint-teresa.htm
http://www.learner.org/series/art-through-time-a-global-view/dreams-and-visions/the-ecstasy-of-st-teresa/
http://courses.lumenlearning.com/zeliart102/chapter/berninis-ecstasy-of-st-teresa/
http://www.artble.com/artists/gian_lorenzo_bernini/sculpture/the_ecstasy_of_saint_theresa
http://www.learner.org/series/art-through-time-a-global-view/dreams-and-visions/the-ecstasy-of-st-teresa/