the swing painting frozen scene

The Swing (French: L'Escarpolette), also known as The Happy Accidents of the Swing (French: Les Hasards heureux de l'escarpolette, the original title), is an 18th-century oil painting by Jean-Honoré Fragonard in the Wallace Collection in London. It is considered to be one of the masterpieces of the Rococo era, and is Fragonard's best known work. [1]
The original owner remains unclear. A firm provenance begins only with the tax farmer Marie-François Ménage de Pressigny, who was guillotined in 1794, [5] after which it was seized by the revolutionary government. It was possibly later owned by the marquis des Razins de Saint-Marc, and certainly by the duc de Morny. After his death in 1865, it was bought at auction in Paris by Lord Hertford, the main founder of the Wallace Collection. [6]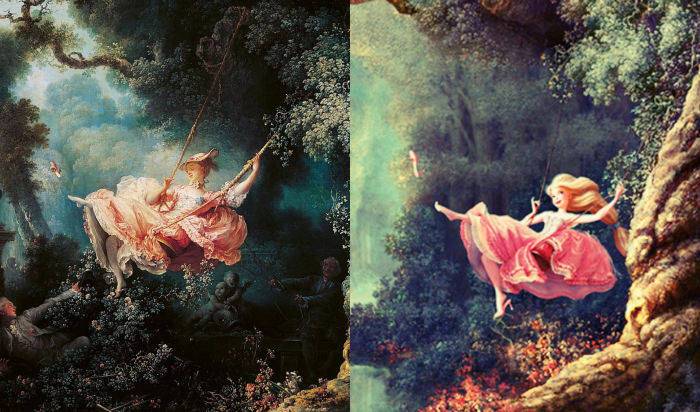 "A master of the domestic scene, the pastoral landscape and tongue-in-cheek eroticism of the boudoir painting, Fragonard had his share of admirers and wielded a strong influence over future masters of the art world."
On the left: Fragonard's original painting, "The Swing." On the right: concept art for Disney's "Tangled" (2010).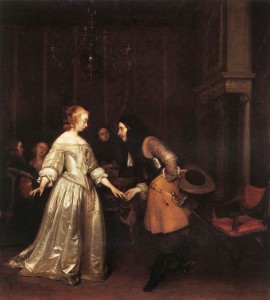 Fig. 4.1 Sargent's "El Jaleo" Fig. 4.2 The fourth painting featured in "First Time in Forever," c/o Disney
Fig. 2.1 Serrure's "The Picnic." Fig. 2.2 The second painting in "First Time in Forever," which looks much like "The Picnic," but from a different angle and a bit more life

Jean-Honoré Fragonard, The Swing, 1766
In Fragonard's The Swing, a bishop swings an elegantly dressed young lady, the sweetheart of the young man in the corner (who is the painting's patron). She boldly and flirtatiously kicks off her shoe. The young man in the lower left corner is in a strategic position to admire her while she is high up on a swing. The little statue of Cupid holds his finger to his lips. The whole scene takes place in the setting of a bower in a park in beautiful and soft pastel colors. This painting epitomizes the Rococo style, with is pastel colors, sensuality, and its frills.

M. Gustave (Ralph Fiennes) and Zero (Tony Revolori) standing in front of Klimt's "Birch Forest I" in Wes Anderson's movie "The Grand Budapest Hotel".
Then there is the moment when Anna jumps in front of a painting of a woman on a swing and mimics her position. This painting is unmistakably Jean-Honoré Fragonard's The Swing. Apparently this was done on purpose as the painting was the inspiration for the feel of the movie Tangled.
References:
http://www.artdocentprogram.com/art-film-fragonard-gets-frozen/
http://www.artdocentprogram.com/art-disney/
http://17green.wordpress.com/2014/04/26/jean-honore-fragonard-the-swing/
http://kateloughran.wordpress.com/2014/04/21/fragonard-and-frozen/
http://www.artble.com/artists/jean-honore_fragonard/paintings/the_swing